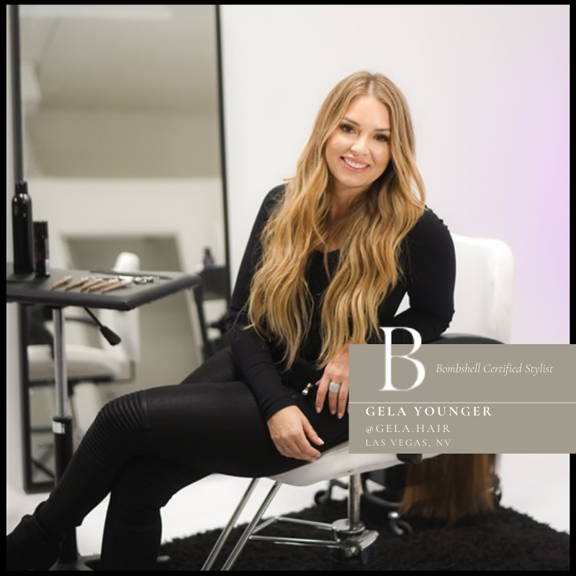 Location: Las Vegas, NV
IG: @hairby_gela
-How did you get started in the Hair industry?
I grew up with a mom who did everyone's hair, including the neighbors. We didn't have much money growing up so she did all of our hair color/perms.
I started cutting my Dad's hair in the 7th grade and then after high school I attended Butte Academy in Butte, Montana :)
-What are your 3 must-have hair products?
Oribe Dry Texture Spray : for that frothy look I can't live without..
Oribe Matte Waves : for a finish product with a little texture
Kerastase Thermique leave in heat protection
-If you could have dinner with one person living or deceased, whom would it be?
My Daddy, he was truly the best.
-What's your current favorite hair trend?
Lived in color.. never gets old
-If you could style one celebrity's hair, who would it be?
JLo, I just can't help it, I'm obsessed with her
-Describe a typical day-in-your life?
Wake up-- get my 8 yr old son ready for the day--Head into work to hang with all my lovely's--Pick up my son-- then home for some dinner and homework 📚
-What's the one habit everyone can do to get better/healthier hair?
Less heat styling
-Do you have any tips for artists starting out in the industry?
Work hard, Be authentic and kind, the rest will fall into place. I believe true success is how people remember you when you are gone.
-What do you do to feel more inspired?
I am truly inspired by our industry, not just behind the chair, but in business. I love hearing about how fellow stylists run their business'.
-What's the best advice you've ever received?
It was from my Daddy, I was taking a business class and one of the questions was "ask someone you know that's been married more than 30 years how they make a relationship work."... his answer was simple-- 'all you need is communication and trust'. What a helpful tool this is, we not only have relationships with our husbands/wives/family/friends, but with our clients too. It was the best life/ business advice I have every received.
-What's been your proudest moment in the industry?
Working along side Odile Gilbert at NEW YORK FASHION WEEK!!
-What would be your career path in another life?
Archaeologist, this was my career choice before I realized how long I needed to attend college.. haha
-What is your favorite Bombshell Extensions Co product?
The machine wefts,you know the beaded weft is my thing ;)
FUN FACTS:
Fave binge watch:
Grace & Frankie
Fave food:
Mexican
Weekend activity:
Hiking with my son
Coffee order:
Vanilla Latte w/ almond milk
Next bucket list destination:
Maldives
FOLLOW GELA + Book her as one of our LAS VEGAS Stylists with Bombshell Extensions!