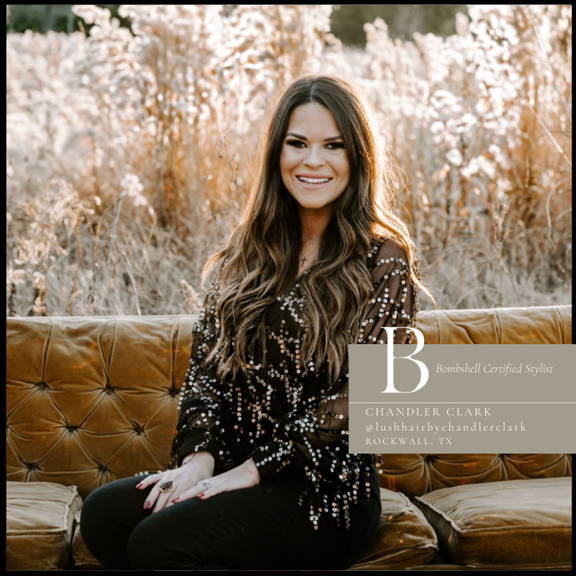 -How did you get started in the Hair industry?
Being the oldest of seven girl cousins, I have been "playing" hair stylist for as far back as I can remember. Doing hair got more serious as I grew older, by the time I was in high school it seemed I was doing my friends' and families' hair for every major life occasion. Whether it was working to get my cousin's hair styled just right for her first middle school dance, or the perfectly teased ponytail for my little sister's high school cheer tryouts, I loved being able to boost these girls confidence through their hair style.
Going to hair school, I had only styled hair, never cut or colored. It was intimidating in the beginning, but, I grew to love it! To this day, I still get the most satisfaction from helping other women feel extra beautiful for the life events that matter most to them. There is not a better feeling than knowing that I helped make my clients feel better about their appearance and have given them a boost of confidence as they leave my salon.
-What are your 3 must-have hair products?
1) Iles Formula Finishing Serum: I use this product every time before I blow dry my hair. One of the most important things about maintaining extensions is taking care of them and using the right products to keep the hair soft and in good condition. This product keeps my extensions and real hair feeling lush and silky 24/7.
2) Moroccan Oil Texture Spray: l alternate using hair spray with this texture spray when styling. I love using the Moroccan Oil Texture Spray because it is not too chalky or heavy for my clients' hair, it consistently helps me achieve the perfect tussled look without feeling or looking dirty.
3) Oribé Dry Shampoo: We all have those days when our busy schedule make it impossible to find the time to wash, blow dry and style our hair. Oribé is my go-to dry shampoo, not only does it smell incredible but it is the only dry shampoo I have found that I truly love!
-If you could have dinner with one person living or deceased, who
would it be?
Growing up the daughter of a country western singer / songwriter, I'd have to pick either Loretta Lynn or Dolly Parton. To avoid making this tough decision I am just going to say it's a tie, I am inviting both of these fabulous ladies to my dinner!
-What is your current favorite hair trend?
I'm currently super into styling braids! I will always love seeing my clients' reaction when they are happy with their cut or color, but, I feel like doing a braid, especially after a color service, allows me to be super creative and give my clients something different when they're leaving my salon.
-If you could style one celebrity's hair, who would it be?
Oh, without a doubt I'd pick Kacey Musgraves. Not only do I admire her as an artist, but she seems to have such a fun personality, a great outlook on life, and a beautiful head of hair! We would have a DAY in the salon if I got to style her hair- champagne for everyone on the house!
-Describe a typical day-in-your life?
I am at the salon most days, typically seeing about 6-8 clients per day. I try to make time nearly every day to work out: I have recently been into taking pilates classes as a way to tone up and stay in shape. The best part of my day, everyday, is the time I spend with my husband and our two fur babies. Nathan and I were married a year and a half ago, we are so enjoying the married life and loving this season of growing together as a new-ish married couple.
-What is the one habit everyone can do to get better/healthier hair?
I am always preaching to my clients to add more moisture to their hair, I don't think most people realize how important that step in the hair care process really is. My most important recommendation is to use some kind of leave-in cream to protect their hair before they blow dry or style with any sort of heat.
-Do you have any inspiring female role models or mentors?
This question is impossible to answer because I have so many! As I stylist, I think one of the most important things you can do is to never stop learning. Education is so important and we can constantly learn so much from one another. I am inspired everyday by the strong woman in my community, even by just logging into Instagram and seeing post from my fellow stylists, I feel encouraged to try something new. If I had to narrow it down to one main role model it would have be my mom, she's not in the hair industry but the life lessons I have learned from her are too many to count. She's the hardest working, most selfless person I know, qualities like that translate to any industry and can inspire us all to strive everyday to be a little better than the day before.
-Do you have any tips for artists starting out in the industry?
Be open to learning new things, don't get stuck in your ways, and always keep your clients happy. It is so important to retain your clients. They keep coming back to your salon by cultivating genuine relationships with them, being timely, pampering them, and producing quality work.
-What do you do to feel more inspired?
Of course Instagram and Pinterest keep me constantly wanting to better myself and try new things. I also regularly attended classes and conventions to stay up-to-date on the latest techniques. Aside from that, I try to keep my salon my "happy place." Everyday when I pull up to my salon, it doesn't feel like I just got to work, it feels like I arrived at my second home. Jamming out to whatever music is matching my mood that day gets me in my zone so that I can just focus on doing hair!
-What's the best advice you've ever received?
"Be the BEST you can be!"
-What has been your proudest moment in the industry?
This year has been such an awesome year for me personally. I met many of the goals I had set for myself awhile back and truly exceeded my own expectations of where I thought I would be in the Hair Industry when I started. Taking a class with Bombshell really was a huge turning point for me, it opened so many doors and connected me with clients who likely would not have known anything about me if it were not for Bombshell. I still have a long way to go and really the possibilities of where this industry will take me are endless.
-What would be your career path in another life?
I think I could have been a wedding planner. I have always had a passion for weddings: growing up as a little girl you dream of that day. After planning my own wedding I realized how much I enjoyed it, even though it was stressful at times, it was a year I will never forget.
-What is your favorite Bombshell Extension Co. product?
For sure #8/60!!! I love the blend and having the rooted option just took #60 to another level!
FUN FACTS:
Fave binge watch:
The Office
Fave food:
Lobster MAC N CHEEESE
Weekend activity:
Brunchin' with my hubbs
Coffee order:
Caramel Latte (SKINNY- sometimes!)
Next bucket list destination:
Ireland