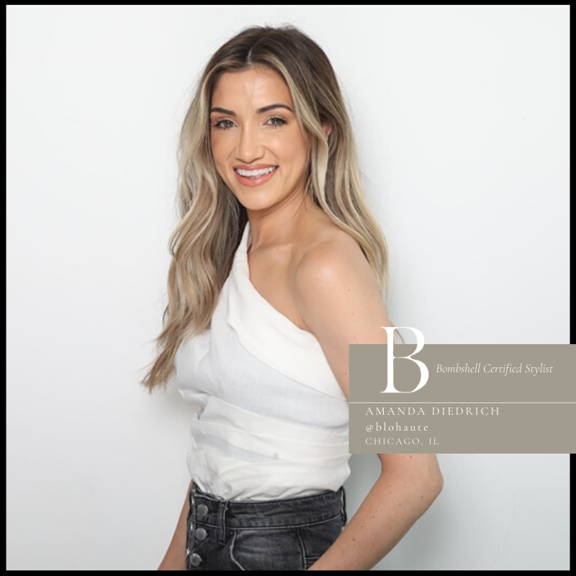 Location: Chicago
IG: @blohaute
-How did you get started in the Hair industry?
I was always in love with hair and constantly finding ways to do my friend's hair. It took a little time convincing my dad to let me go to cosmetology school while I was already attending college in downtown Chicago. I finally got the 'OK' from him, and I started at Tricoci University and then got my first salon job at Mario Tricoci as a color assistant.
The rest is history
-What are your 3 must-have hair products?
A good texture spray is always my #1, I'm currently loving the OUAI Texturizing Spray.
Next up, is a good volumizing powder to make my ponytails fluffy (forever my fave is the Oribe Swept Up Volume Powder).
Lastly, a static spray for frizz sheets, these things are total game changers (IGK or Ouai are my go to brands for these type of products).
-If you could have dinner with one person living or deceased, whom would it be?
Jen Atkin. Best hairstylist ever. I just want to hangout with her and pick her brain, she's a hair genius!
-What's your current favorite hair trend?
Ponytails…I don't know if that's really a trend, but a good ponytail is magical.
-If you could style one celebrity's hair, who would it be?
Bella Hadid…no explanation necessary.
-Describe a typical day-in-your life?
Wake up around 5:30am – head out to clients until about 3pm. –Come home and hangout with my daughter (aka #blohautemini), and then either head back out for evening clients or pay Target a visit for no apparent reason..
-What's the one habit everyone can do to get better/healthier hair?
Stop washing your hair so much.
-Do you have an inspiring female role models or mentors?
Jen Atkin (I swear I'm not obsessed).
-Do you have any tips for artists starting out in the industry?
For new artists: find your nitch. Discover what your style/vibe is and run with it. And of course, instagram, instagram, instagram.
-What do you do to feel more inspired?
Traveling has started to become a way for me to find inspiration, or even just walking around Chicago. And, of course social media and looking at other amazing hairstylists/artists.
-What's the best advice you've ever received?
From my dad, when I was questioning whether or not I wanted to stay in the salon world or go back to school… He said something along the lines of "As long as you're good at it and it's what you love doing, you'll find a way to make it successful."
I've never heard something as true
-What's been your proudest moment in the industry?
Definitely starting Blohaute and becoming my own brand vs. working under someone else's name.
-What would be your career path in another life?
Nursing, it's what I was going to school for before deciding on my love for hair,.
-What is your favorite Bombshell Extensions Co product?
Rooted Tape Ins…and Cari, the Owner
FUN FACTS:
Fave binge watch:
Anything on Bravo
Fave food:
Chips and Guac, and Starbucks of course.
Weekend activity:
Taking Greya (#blohautemini) around downtown.
Coffee order:
Venti Nonfat Latte
Next bucket list destination:
South Africa